CNATM-Lecture: Roy van der Meel
November 30, 2023, 17:15

Gene Silencing in HSPCs with an Apolipoprotein A1-Based Nanodelivery Platform
Nucleic acid therapeutics are revolutionizing healthcare via gene inhibition, addition, replacement or editing. Lipid nanoparticle (LNP) technology is the current gold standard platform that enabled the clinical translation of the first siRNA drug Onpattro and the COVID-19 mRNA vaccines. Nevertheless, current LNP systems are mostly suited for vaccine purposes following local administration or hepatic delivery following intravenous administration. To unleash RNA's full therapeutic potential, Roy van der Meel introduces modular nanoplatform technology for systemic nucleic acid delivery to immune cells in hematopoietic organs using apolipoproteins.
Roy van der Meel is Professor of Precision Medicine in the Department of Biomedical Engineering at Eindhoven University of Technology.
Location: ICEM / House L, Seminarraum, Würmtalstr. 201, 81377 Munich
Registration is required for participation: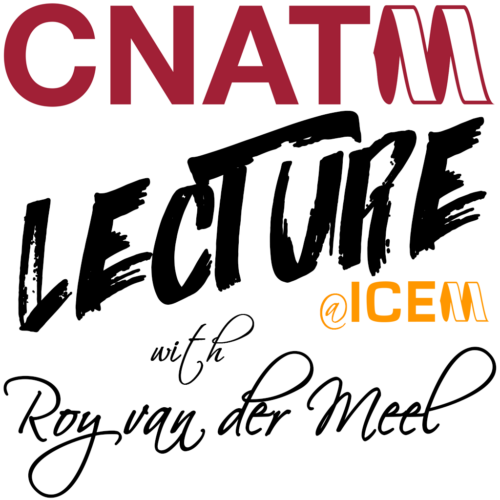 m4 Award für Prof. Ulrike Protzer und ihr Projekt TherVacB
25. Oktober. 2023
Prof. Ulrike Protzer und ihr Projekt TherVacB war einer der 5 Gewinner des Bayerischen m4-Preises von BioM. TherVacB ist ein Projekt zur Entwicklung eines therapeutischen Impfstoffs gegen das Hepatitis-B-Virus.
Der m4 Award ist ein Vorgründungspreis für innovative, zukunftsträchtige medizinische Biotechnologieprojekte mit Preisgeldern zur weiteren Erforschung von Lösungen für innovative medizinische Probleme.
An Aminoisoxazole-Based Proto-RNA
12. Oktober 2023
Chemistry Europe 2023, e202300057
Felix Xu, Stefan Wiedemann, Jonas Feldmann, Sidney Becker and Thomas Carell
The RNA world hypothesis predicts that life started with the development of replicating and catalytically active RNA, which evolved in a process of molecular evolution to increasingly complex chemical structures. RNA is, however, so complex that it has most likely formed from a precursor (proto-RNA) that was more easily accessible in a prebiotic world. Recently, 3-aminoisoxazoles (IO3) were identified as building blocks that can form under prebiotic conditions and can rearrange to give the nucleoside cytidine (C). The present study shows that the constitutional isomer 5-aminoisoxazole (IO5) can undergo the same reaction to give uridine (U). Both compounds (IO3 and IO5), if embedded in RNA, react selectively to C and U, which are the main pyrimidine nucleosides of the genetic system. Importantly, the stereochemical outcome of the IO5 reaction in RNA depends on the neighboring bases. If they are β- configured RNA nucleosides, the reaction proceeds with high selectivity to give exclusively the β-configured U RNA base (anomeric control).
Trimannose-coupled antimiR-21 for macrophage-targeted inhalation treatment of acute inflammatory lung damage
28. Juli 2023
Christina Beck, Deepak Ramanujam, Paula Vaccarello, Florenc Widenmeyer, Martin Feuerherd, Cho-Chin Cheng, Anton Bomhard, Tatiana Abikeeva, Julia Schädler, Jan-Peter Sperhake, Matthias Graw, Seyer Safi, Hans Hoffmann, Claudia A. Staab-Weijnitz, Roland Rad, Ulrike Protzer, Thomas Frischmuth, Stefan Engelhardt
Recent studies of severe acute inflammatory lung disease including COVID-19 identify macrophages to drive pulmonary hyperinflammation and long-term damage such as fibrosis. Here, we report on the development of a first-in-class, carbohydrate-coupled inhibitor of microRNA-21 (RCS-21), as a therapeutic means against pulmonary hyperinflammation and fibrosis. MicroRNA-21 is among the strongest upregulated microRNAs in human COVID-19 and in mice with acute inflammatory lung damage, and it is the strongest expressed microRNA in pulmonary macrophages. Chemical linkage of a microRNA-21 inhibitor to trimannose achieves rapid and specific delivery to macrophages upon inhalation in mice. RCS-21 reverses pathological activation of macrophages and prevents pulmonary dysfunction and fibrosis after acute lung damage in mice. In human lung tissue infected with SARS-CoV-2 ex vivo, RCS-21 effectively prevents the exaggerated inflammatory response. Our data imply trimannose-coupling for effective and selective delivery of inhaled oligonucleotides to pulmonary macrophages and report on a first mannose-coupled candidate therapeutic for COVID-19.

Pressemitteilung zur Veröffentlichung in Nature Communications
08. August 2023
Hier geht es zum Artikel über die Veröffentlichung: "Trimannose-gekoppeltes antimiR-21 für die Makrophagen-gezielte Inhalationsbehandlung von akuten entzündlichen Lungenschäden" in Nature Communications.

CNATM-Vortrag: Muthiah Manoharan
19. Juli 2023
Living in the World of RNA Therapeutics
Synthetic small interfering RNAs (siRNAs) are potent inhibitors of gene expression. These molecules are perfect examples of biomimetic chemistry as synthetic siRNAs act through the natural RNA interference (RNAi) pathway. To deliver therapeutic siRNAs into human liver, Manoharan and his team developed approaches that include chemical modification of the siRNAs and either lipid nanoparticle (LNP) formulation or multivalent N-acetylgalactosamine (GalNAc) conjugation, making possible intravenous and subcutaneous administration, respectively. This  presentation will cover the molecular basis of RNA therapeutics and their delivery including the chemical modifications and motifs used in each RNA strand to ensure uptake into cells of the targeted tissue, Ago2 recognition, silencing efficiency, metabolic stability, and safety.
Muthiah Manoharan ist Senior Vice President of Drug Discovery bei Alnylam Pharmaceuticals, Cambridge.
Ort: ICEM/ Haus L, Seminarraum, Würmtalstr. 201,81377 München
Für die Teilnahme ist eine Anmeldung erforderlich:
Link zur Anmeldung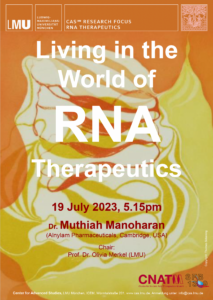 26. Juni 2023
Am 26. Juni fand das erste Kick-Off Meeting von CNATM am am Campus der LMU in Großhadern erfolgreich statt. Dieses diente als kurze Auftakt- und Informationsveranstaltung zum Beginn des Clusters. Viele Mitglieder und Partner des Zukunftsclusters waren dort vertreten und konnten sich persönlich vorstellen. Wir freuen uns besonders auf die gemeinsame Arbeit in der Zukunft. 
Nucleic-Acid-Isar-Valley nimmt Arbeit auf
12. Mai 2023
Am 1. Mai hat der Zukunftscluster für Nukleinsäure Therapeutika (Cluster for Nucleic Acid Therapeutics Munich, CNATM) seine Arbeit aufgenommen.
CNATM ist ein Innovationsnetzwerk aus Wissenschaft und Wirtschaft, welches mit jährlich fünf Millionen Euro vom Bund, vom Freistaat und beteiligten Unternehmen gefördert wird. Der Forschungsverbund besteht aus Wissenschaftlern*innen der federführenden Universitäten LMU und der TUM. Unter Beteiligung der Universitäten von Regensburg und Würzburg, dem Helmholtz-Zentrum München und 17 Unternehmen aus der Region um München. Insgesamt gelang es 22 Anträgen zur Förderung zu verhelfen und damit der Start des Nucleic-Acid-Isar-Valleys.
Durch die multilateralen Kooperationen des CNATM entsteht ein Netzwerk, aus dem heraus neuartige nukleinsäure-basierte Wirkstoffe und Vakzine der nächsten Generation entwickelt werden sollen. Neueste Entdeckungen lassen hoffen, dass sich mit der Möglichkeit, Nukleinsäuren hochspezifisch und theoretisch vorhersagbar designen zu können, in der Medizin ganz neue Therapieansätze eröffnen und damit viele Menschen geholfen werden kann. Es gibt keine Substanzklasse, die besser zur personalisierten Medizin passt als Nukleinsäuren. Der Zukunftscluster möchte den Nukleinsäure-Therapien zum Durchbruch verhelfen und so einen Beitrag liefern, der Sinn stiftet: Menschen heilen und Arbeitsplätze in und um München schaffen.
CNATM einer von nur 7 Zukunftsclustern in Deutschland
18. Juli 2022
Wir freuen uns sehr, deutschlandweit einer von nur 7 und in Bayern der einzige Zukunftscluster der zweiten Wettbewerbsrunde zu sein.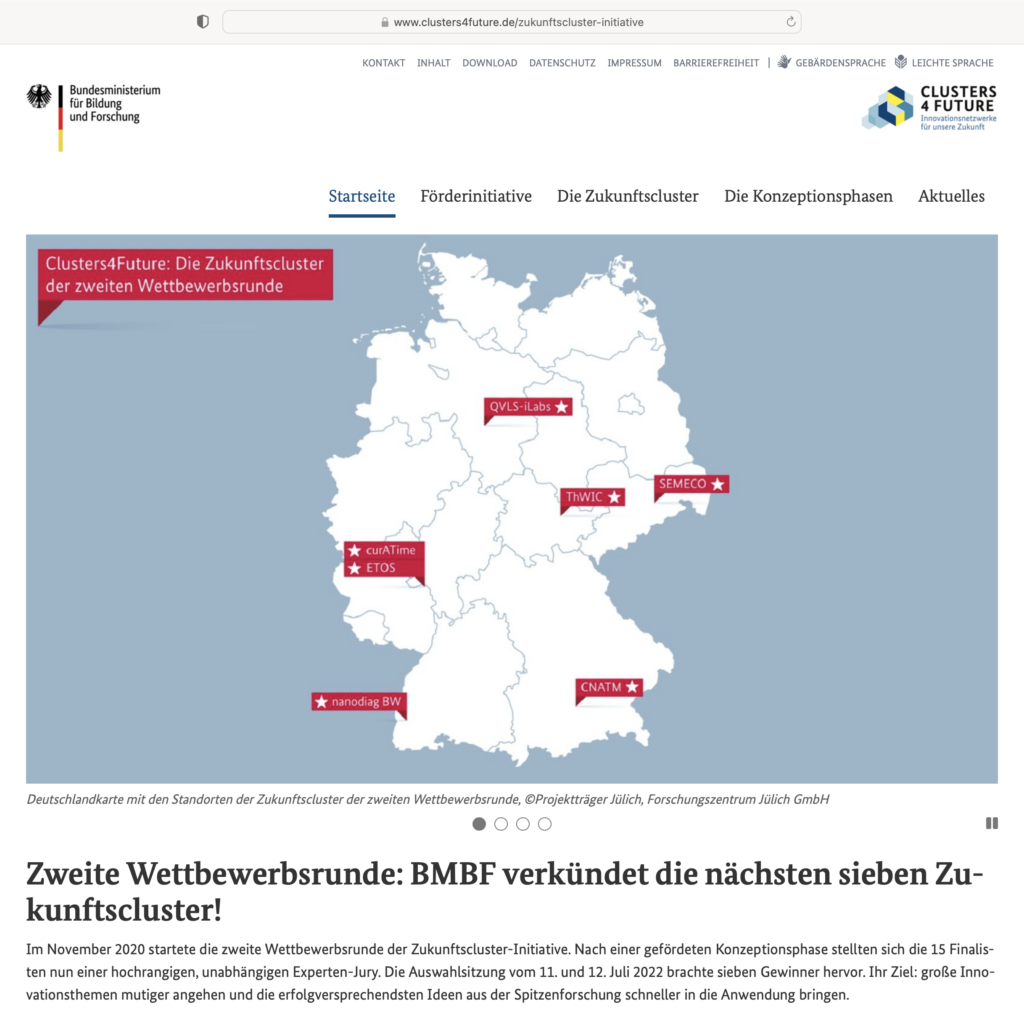 Unser Dank gilt allen Mitgliedern und Partner-Firmen die dies ermöglicht haben.