CNATM-Lecture: Roy van der Meel
November 30, 2023, 17:15

Gene Silencing in HSPCs with an Apolipoprotein A1-Based Nanodelivery Platform
Nucleic acid therapeutics are revolutionizing healthcare via gene inhibition, addition, replacement or editing. Lipid nanoparticle (LNP) technology is the current gold standard platform that enabled the clinical translation of the first siRNA drug Onpattro and the COVID-19 mRNA vaccines. Nevertheless, current LNP systems are mostly suited for vaccine purposes following local administration or hepatic delivery following intravenous administration. To unleash RNA's full therapeutic potential, Roy van der Meel introduces modular nanoplatform technology for systemic nucleic acid delivery to immune cells in hematopoietic organs using apolipoproteins.
Roy van der Meel is Professor of Precision Medicine in the Department of Biomedical Engineering at Eindhoven University of Technology.
Location: ICEM / House L, Seminarraum, Würmtalstr. 201, 81377 Munich
Registration is required for participation: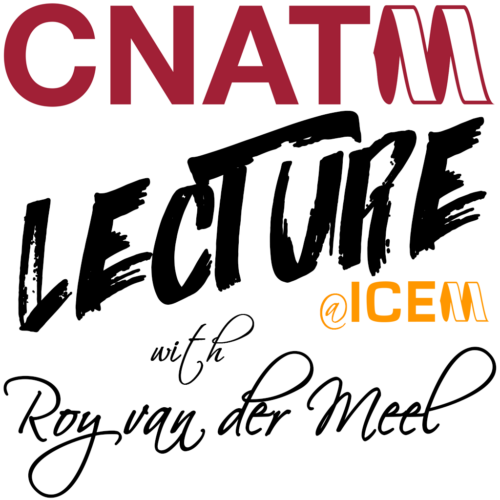 m4 Award for Prof. Urlike Protzer and her Project TherVacB
25. Oktober. 2023
Prof. Ulrike Protzer and her project TherVacB was one of the 5 winners of the Bavarian m4 Award from BioM. TherVacB is a project for the development of a therapeutic vaccine against Hepatitis B virus.
The m4 Award is a pre-funding award for innovative, high-potential medical biotechnology projects, with prize funds to further explore solutions to innovative medical problems.
An Aminoisoxazole-Based Proto-RNA
12. Oktober 2023
Chemistry Europe 2023, e202300057
Felix Xu, Stefan Wiedemann, Jonas Feldmann, Sidney Becker and Thomas Carell
The RNA world hypothesis predicts that life started with the development of replicating and catalytically active RNA, which evolved in a process of molecular evolution to increasingly complex chemical structures. RNA is, however, so complex that it has most likely formed from a precursor (proto-RNA) that was more easily accessible in a prebiotic world. Recently, 3-aminoisoxazoles (IO3) were identified as building blocks that can form under prebiotic conditions and can rearrange to give the nucleoside cytidine (C). The present study shows that the constitutional isomer 5-aminoisoxazole (IO5) can undergo the same reaction to give uridine (U). Both compounds (IO3 and IO5), if embedded in RNA, react selectively to C and U, which are the main pyrimidine nucleosides of the genetic system. Importantly, the stereochemical outcome of the IO5 reaction in RNA depends on the neighboring bases. If they are β- configured RNA nucleosides, the reaction proceeds with high selectivity to give exclusively the β-configured U RNA base (anomeric control).
Trimannose-coupled antimiR-21 for macrophage-targeted inhalation treatment of acute inflammatory lung damage
28. Juli 2023
Christina Beck, Deepak Ramanujam, Paula Vaccarello, Florenc Widenmeyer, Martin Feuerherd, Cho-Chin Cheng, Anton Bomhard, Tatiana Abikeeva, Julia Schädler, Jan-Peter Sperhake, Matthias Graw, Seyer Safi, Hans Hoffmann, Claudia A. Staab-Weijnitz, Roland Rad, Ulrike Protzer, Thomas Frischmuth, Stefan Engelhardt
Recent studies of severe acute inflammatory lung disease including COVID-19 identify macrophages to drive pulmonary hyperinflammation and long-term damage such as fibrosis. Here, we report on the development of a first-in-class, carbohydrate-coupled inhibitor of microRNA-21 (RCS-21), as a therapeutic means against pulmonary hyperinflammation and fibrosis. MicroRNA-21 is among the strongest upregulated microRNAs in human COVID-19 and in mice with acute inflammatory lung damage, and it is the strongest expressed microRNA in pulmonary macrophages. Chemical linkage of a microRNA-21 inhibitor to trimannose achieves rapid and specific delivery to macrophages upon inhalation in mice. RCS-21 reverses pathological activation of macrophages and prevents pulmonary dysfunction and fibrosis after acute lung damage in mice. In human lung tissue infected with SARS-CoV-2 ex vivo, RCS-21 effectively prevents the exaggerated inflammatory response. Our data imply trimannose-coupling for effective and selective delivery of inhaled oligonucleotides to pulmonary macrophages and report on a first mannose-coupled candidate therapeutic for COVID-19.

Press release for publication in Nature Communications
08. August 2023
Click here for the article about the publication: "Trimannose-coupled antimiR-21 for macrophage-targeted inhalation treatment of acute inflammatory lung injury" in Nature Communications

CNATM Lecture: Muthiah Manoharan
19 July 2023
Living in the World of RNA Therapeutics
Synthetic small interfering RNAs (siRNAs) are potent inhibitors of gene expression. These molecules are perfect examples of biomimetic chemistry as synthetic siRNAs act through the natural RNA interference (RNAi) pathway. To deliver therapeutic siRNAs into human liver, Manoharan and his team developed approaches that include chemical modification of the siRNAs and either lipid nanoparticle (LNP) formulation or multivalent N-acetylgalactosamine (GalNAc) conjugation, making possible intravenous and subcutaneous administration, respectively. This  presentation will cover the molecular basis of RNA therapeutics and their delivery including the chemical modifications and motifs used in each RNA strand to ensure uptake into cells of the targeted tissue, Ago2 recognition, silencing efficiency, metabolic stability, and safety.
Muthiah Manoharan ist Senior Vice President of Drug Discovery bei Alnylam Pharmaceuticals, Cambridge.
Location: ICEM/ House L, Seminar Room, Würmtalstr. 201, 81377 Munich, Germany
Registration is required for participation:
Link to registration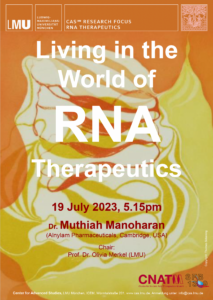 26 June 2023
On June 26, the first kick-off meeting of CNATM took place successfully at the LMU campus in Großhadern. This served as a short kick-off and information event for the beginning of the cluster. Many members and partners of the future cluster were represented there and were able to introduce themselves personally. We are particularly looking forward to working together in the future. 
Nucleic Acid Isar valley begins work
12 May 2023
On May 1, the Cluster for Nucleic Acid Therapeutics Munich (CNATM) started its work.
CNATM is an innovation network of science and industry, which is funded with five million euros annually by the federal government, the Free State of Bavaria and participating companies. The research network consists of scientists from the leading universities LMU and TUM. The universities of Regensburg and Würzburg, the Helmholtz Center Munich and 17 companies from the region around Munich are also involved. A total of 22 applications were awarded funding, marking the start of the Nucleic Acid Isar Valley.
The multilateral collaborations of CNATM are creating a network from which novel nucleic acid-based drugs and next-generation vaccines will be developed. Recent discoveries give rise to the hope that the ability to design nucleic acids in a highly specific and theoretically predictable way will open up completely new therapeutic approaches in medicine and thus help many people. There is no substance class that is better suited to personalized medicine than nucleic acids. The Future Cluster wants to help nucleic acid therapies achieve a breakthrough and thus make a contribution that makes sense: curing people and creating jobs in and around Munich.
CNATM one of only 7 future clusters in Germany
18 July 2022
We are very pleased, to be one of only 7 clusters4future in Germany and in Bavaria the only one of the second round of the competition.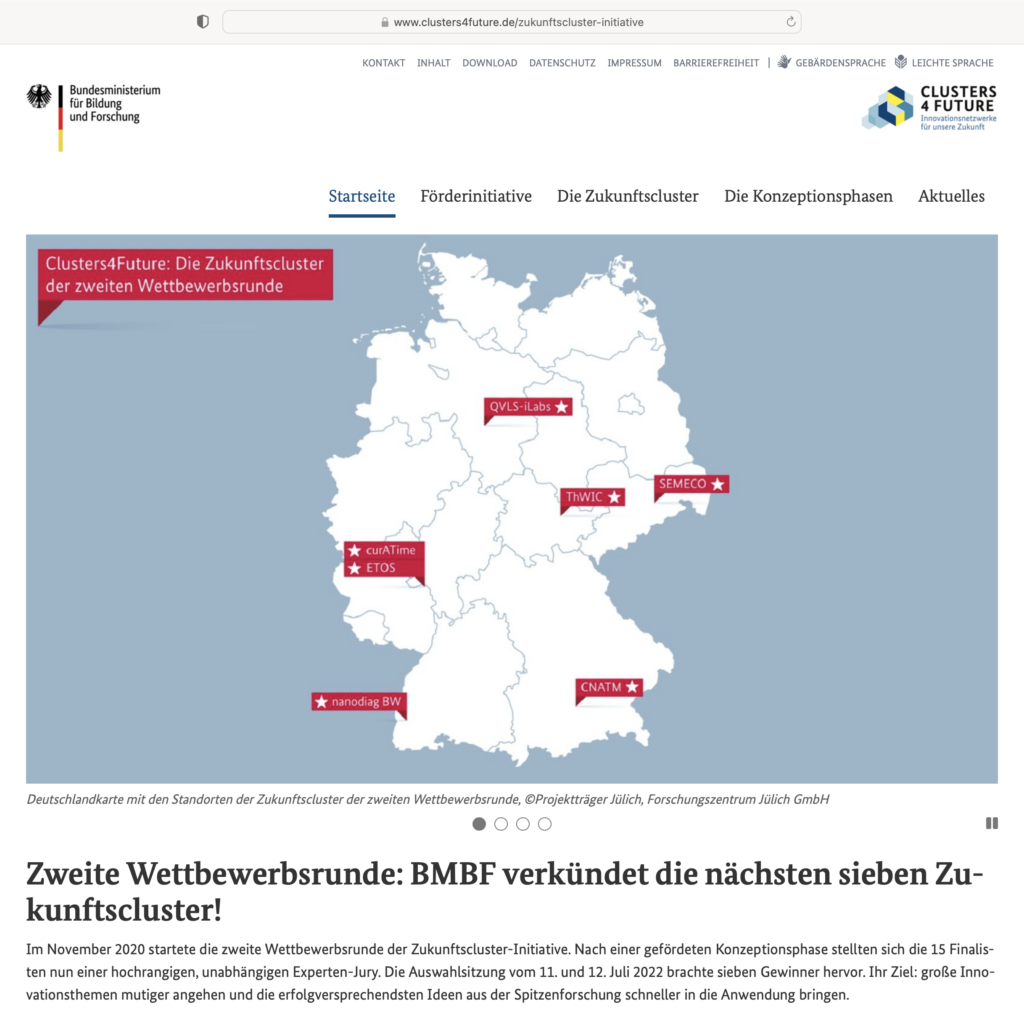 Our thanks go to all members and partner companies who made this possible.